DIGIT GAMING EDGE 20k SUBSCRIBER EVENT
GT Champions is proud to team up with dg-edge.com to celebrate 20 Thousand Subscribers to their YouTube channel! It is an honor to be a part of this celebration, and to team up for a spectacular event to mark the occasion.
We urge you to subscribe to both YouTube channels for DIGIT and GTC so that you never miss an opportunity to see some great content, and interact live!
the event will be broadcasted live on the GT Champions YouTube channel, with commentary. The pre-qualifers of course are solo events, but we will be broadcasting LIVE the Qualifying time Trials at RB, and each of the 4 rounds. With special guests along the way, as part of the celebration.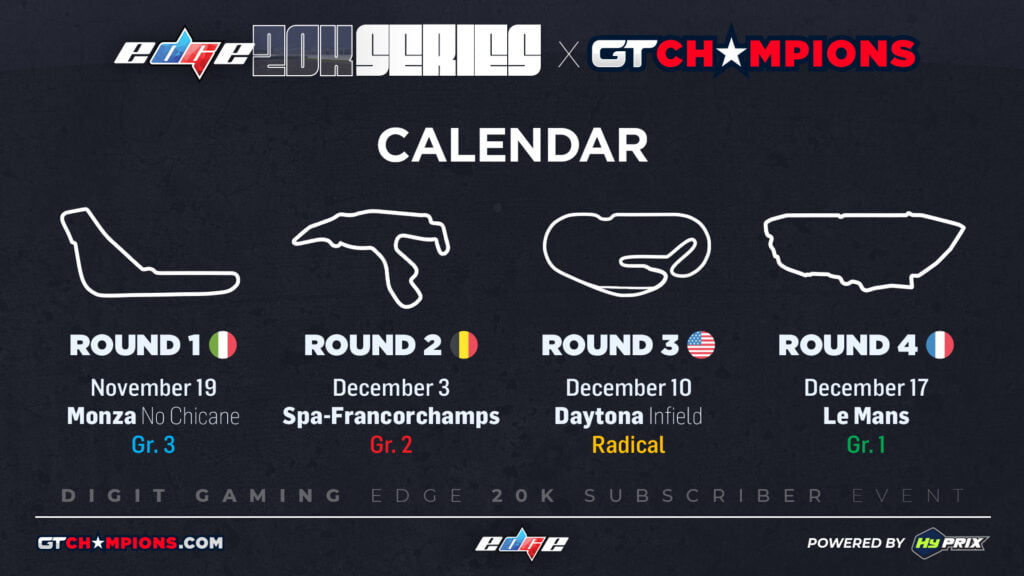 ---
Pre-Qualifying
All drivers must formally register for times to be counted. 
Top 30 go through to the main events
1-15 to Division 1 (Lobby A)
16-30 to Division 2 (Lobby B)
Pre-qualifying  dates:
Will close on Thursday November 17th 11pm GMT (6pm ET New York)
Drivers must friend the following PSN account(s) to be able to qualify: GTC_OFFICIAL and GTHR_Digit
Your rankings will be calculated based on the friends list of GTC_OFFICIAL and GTHR_Digit
Rankings will be updated daily on the website.
Pre-Qualifier setup:
Drivers will go to "Circuit Experience" on Autopolis in the GR-2 car and set the best "Lap Attack" time. Drivers will have until closing to set their best lap times. Once the time closes, we will screen shot the list and that will be the end. So it is very important to send a friend request to GTC_Official and GTHR_Digit
Race Format:
Races will be 25 minute endurance rounds. (ROUND 4 will be 9 laps)
A 10 minute qualifier will be run before each round.
2PM ET / 7PM GMT Saturday's (Division 1)
3PM ET / 8PM GMT Saturday's (Division 2)
4PM ET / 9PM GMT Saturday's (Division 3)
BOP and no tuning.
Only Division 1 will be broadcasted LIVE
Round 1:
19-NOV-2022
Course: Monza (no chicane)
Car: Any GR-3 car (free choice)
Tires: RM and RS tires required
Multipliers: 5x Tires 7x Fuel
TOD: Late Morning – S04 Dry,Cloudy and Sunny
Round 2:
03-DEC-2022
Course: Spa
Car: Any GR-2 car (free choice)
Tires: RH and RM tires required
Multipliers: 7x Tires 7x Fuel
TOD: Late Morning – C04 Cloudy and Chilly
Round 3:
10-DEC-2022
Course: Daytona Infield
Car: Radical
Tires: SM and SS tires required
Multipliers: 5x Tires 8x Fuel
TOD: Dawn – S08 Humid, Sunny and Cloudy
Round 4:
17-DEC-2022
This will be a 9 lap race.
Course: Circuit de la Sarthe
Car: GR-1
Tires: RH, RM, RS Tires required (3 lap min on each)
Multipliers: 6x Tires 5x Fuel
TOD: Sunset – S04 Dry,Cloudy and Sunny
Point System:
Fastest Lap – 1 Bonus Point
Pole Position – 1 Bonus point
1st Place – 18 Points
2nd Place – 16 Points
3rd Place – 14 Points
4th though 15th 12 points down to 1 point.
Driver Attendance
Any top division drivers that "no show" will be replaced by the top tier 2 driver. If that tier 1 driver misses again, they are out, and the tier 2 driver will remain in their place. Tier 2 drivers that advance to Tier 1 will bring 50% of their points with them to Tier 1.
Livery Requirements:
All cars must have the GT Champions and Digit gaming logo on both sides of the car. (available searching "GTC" & "DIGIT" on showcase)
GT Champions number boards will be used and the windscreen banner  (available searching "GTC" or "DIGIT" on showcase)
No drugs, smoking or alcohol decals.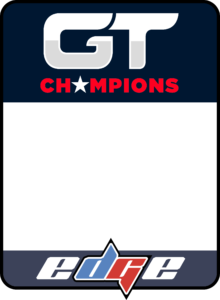 Lobby Settings:
Grid Start with false start check
Race Settings: No Boost, Slipstream=Real, Mechanical Damage=Light, Refueling=Default (3 L/sec), Grip=Real
Penalties: Shortcut Penalty=Weak, Wall Collision Penalty=Off, Correct Vehicle=Off, Car Collision=On, Pit lane Cutting=On, Ghosting=Off, Flag Rules=On
Failure to use the required compounds will result in an immediate penalty of 1 minute as automatically incurred by the game.
Countersteering is Prohibited
All other assist are allowed
's
Digit 20k Qualifier List | FINAL | Updated 12am ET 11-18
| Ranking | Driver | Time | Notes |
| --- | --- | --- | --- |
| 1 | SDRT_madsda | 94.775 | |
| 2 | Bo__ko | 95.229 | |
| 3 | DFViper | 95.405 | |
| 4 | SR_Slipstream | 95.442 | |
| 5 | bbracas | 95.445 | |
| 6 | Calado92 | 95.491 | |
| 7 | romski1989 | 95.550 | |
| 8 | Team-Knudsen84 | 95.561 | |
| 9 | Da_Truth_Serum | 95.593 | |
| 10 | Ando787 | 95.611 | |
| 11 | SOE_Tsbap | 95.613 | |
| 12 | ffmedic28 | 95.627 | |
| 13 | DpMario11 | 95.647 | |
| 14 | RWB_JoeyCannoli | 95.751 | |
| 15 | PSRT-Valsti1998 | 95.879 | |
| 16 | Shamta162 | 95.900 | |
| 17 | LTM_LIPE-G69 | 96.096 | |
| 18 | RustyMaggots | 96.172 | |
| 19 | MVanCity | 96.182 | |
| 20 | Quic_Kick | 96.283 | |
| 21 | sqsr2010 | 96.481 | |
| 22 | tommymoon607 | 96.502 | |
| 23 | RWB_Chevy210 | 96.511 | |
| 24 | RWB_bpmillet | 96.545 | |
| 25 | ICER_Tube-nvNZ | 96.566 | |
| 26 | Alberto_Lucchesi | 96.607 | |
| 27 | BaronCRO | 96.667 | |
| 28 | corredor71 | 96.684 | |
| 29 | drybonesmalone | 96.722 | |
| 30 | kubicaBlyskawica | 96.749 | |
| 31 | ICER_Renegade575 | 96.779 | |
| 32 | RWB_Cupcake | 96.787 | |
| 33 | ESRM_ChrisBoo | 96.788 | |
| 34 | RWB_Spyder | 97.139 | |
| 35 | OGR toolshed | 97.36 | |
| 36 | ESRM_jonovan1204 | 97.782 | |
| 37 | The_Myers_Family | 98.009 | |
| 38 | Fryandthewyskas | 98.039 | |
| 39 | PRT_Critters | 98.095 | |
| 40 | ChipReese | 99.074 | |
| 41 | ICER_Benjo | 100.335 | |
| 42 | ICER_Hannah | 105.398 | |
| 43 | | | |
| 44 | | | |
| 45 | | | |
| 46 | | | |
| 47 | | | |
| 48 | | | |
| 49 | | | |
| 50 | | | |
| 51 | | | |
| 52 | | | |
| 53 | | | |
| 54 | | | |
| 55 | | | |
| 56 | | | |
| 57 | | | |
| 58 | | | |
| 59 | | | |
| 60 | | | |
| 61 | | | |
| 62 | | | |
| 63 | | | |
| 64 | | | |
| 65 | | | |
| 66 | | | |
| 67 | | | |
| 68 | | | |
| 69 | | | |
| 70 | | | |
| 71 | | | |
| 72 | | | |
| 73 | | | |
| 74 | | | |
| 75 | | | |
| 76 | | | |
| 77 | | | |
| 78 | | | |
| 79 | | | |
| 80 | | | |
| 81 | | | |
| 82 | | | |
| 83 | | | |
| 84 | | | |
| 85 | | | |
| 86 | | | |
| 87 | | | |
| 88 | | | |
| 89 | | | |
| 90 | | | |
| 91 | | | |
| 92 | | | |
| 93 | | | |
| 94 | | | |
| 95 | | | |
| 96 | | | |
| 97 | | | |
| 98 | | | |
| 99 | | | |
Digit 20k Qualifier List