Season 5 - 2023 Metropolis World Cup
About the Qualifiers
Check the calendar at the bottom of this page for more info!
About Race Start Times
Always keep in mind timezone changes for your area.
All events run in the Eastern timezone (New York, USA)
Watch GTC-1,2,3 live on Youtube
Races will be 2 Hours (120 minutes) with the pit window between the minute 70 to minute 50 min left (20 min pit window).
All events take place on Saturday's.
Divisions 1 and 3 >Races begin at 6:00PM Eastern Time (New York)
Divisions 2 and 4 >Races begin at 8:30PM Eastern Time (New York)
DESCRIPTION:
Welcome Racers to the 5th season of the GT Champions World Cup. In this series there are ten 120 minute races that will pressure you to race hard but you will have to keep in mind Fuel and Tire wear will be a factor in every race!
Each race you will only get one pit window, the pit window opens at minute 70:00 and ends at 50:00, so please make sure you pay attention to that clock because you don't want to miss the pit window. Each race through the series is a reverse grid to make things a little more spicy.
You will be required to use two compounds during the race, Racing Mediums and Racing Softs,. You are required to run a full stint on each set of tires, or you will be heavily penalized.
This series is a full damage series so you must me patient and know your driving Etiquette, and Flag Rules. Because it is FULL DAMAGE you are allowed to fix damage at any time during the race but remember if you receive Fuel and or Tires outside the pit Window you will be penalized 1:00 for that infraction.
BOP
NO Tune
Tire Wear – x1
Fuel Wear – x1
Fuel Rate – 1/liter per second
Slipstream: Real
Grip: Real
Damage: Full
Shortcut Penalty: Weak
Ghosting: Off
LIVERY REQUIREMENTS:
You will have a lot of freedom with your Liveries all we ask is you keep it PG, the top two lobbies will be streamed so nothing obscene,
Official Number Placards are required on both sides of the car and on the hood/bonnet. ALL NUMBERS TO BE BLACK. And the same font or similar to in game numbers.
Windscreen decal required above windscreen.
Decals available by searching GTC or on the PSN profile: GTC_OFFICIAL
Sponsor logo for the Title Sponsor on both sides of the car, the rear of the car, and on the hood.

In your livery's , make sure to go to driving options and choose a placard then your number, then turn off the placard. This will ensure that your proper driver number shows up when the streamer is watching your car on the stream and hits driver info. Driver info shows stats, car number and car make/model as well as your helmet livery.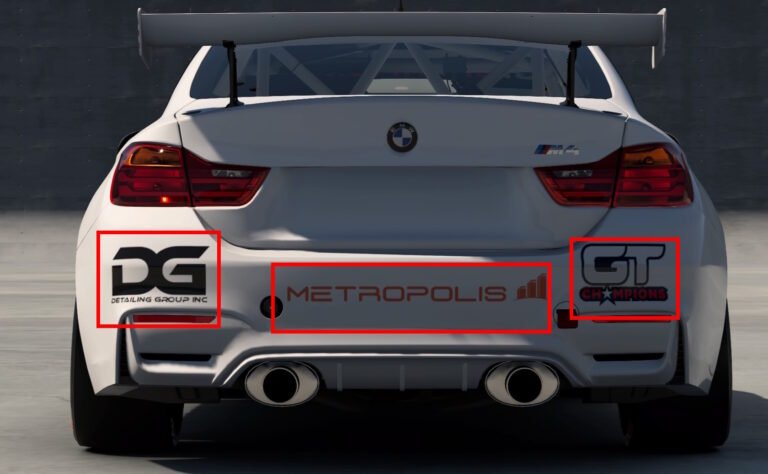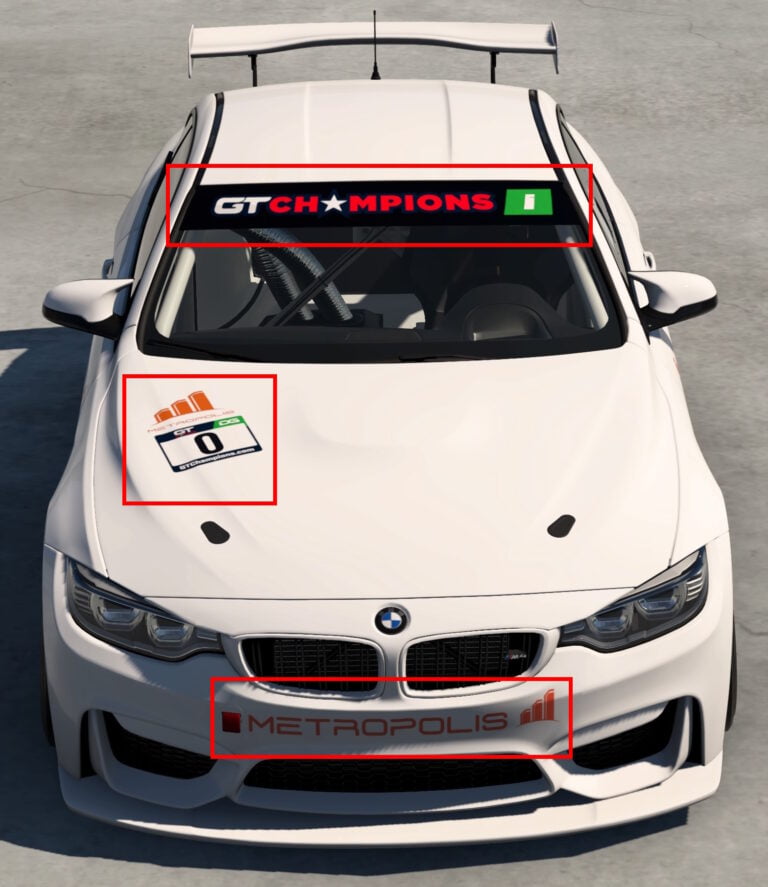 INCIDENT REPORTS:
Incidents are to be reported within 24 hours of race completion. Use the link below to report an incident.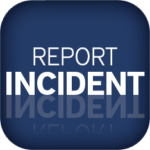 | Position | PSN | 3rd & 4th Fastest Combined |
| --- | --- | --- |
| GTC-1 P1 | BiPolarXpres | 169.747 |
| GTC-1 P2 | APEX_Jakey2309 | 169.763 |
| GTC-1 P3 | SDRT_madsda | 169.814 |
| GTC-1 P4 | Ando787 | 169.951 |
| GTC-1 P5 | VTX_Sharky88 | 170.063 |
| GTC-1 P6 | CaptainMuffin88 | 170.073 |
| GTC-1 P7 | LukeAss36 | 170.274 |
| GTC-1 P8 | GREASYSAMSQUANCH | 170.3 |
| GTC-1 P9 | OGR-CycloneDan77 | 170.314 |
| GTC-1 P10 | RidwanF1 | 170.337 |
| GTC-1 P11 | SOE_TsbapB | 170.411 |
| GTC-1 P12 | Dpmario | 170.419 |
| GTC-1 P13 | Frogs_692 | 170.444 |
| GTC-1 P14 | Hyprix_Roses | 170.699 |
| GTC-1 P15 | RWB_PresidioDog | 170.758 |

| Position | PSN | 3rd & 4th Fastest Combined |
| --- | --- | --- |
| GTC-2 P1 | MonkeyMan | 170.919 |
| GTC-2 P2 | kawazuri | 170.935 |
| GTC-2 P3 | JusGaminReal | 170.943 |
| GTC-2 P4 | RWB_Bukwild76 | 170.948 |
| GTC-2 P5 | Cz3chy_official | 171.02 |
| GTC-2 P6 | NWR_NICO71 | 171.03 |
| GTC-2 P7 | Kaizen_TY98 | 171.058 |
| GTC-2 P8 | Da_Truth_Serum | 171.112 |
| GTC-2 P9 | TottoWolff-JP | 171.133 |
| GTC-2 P10 | BlockyRex9779 | 171.248 |
| GTC-2 P11 | RustyMaggots | 171.26 |
| GTC-2 P12 | Colin_t24 | 171.291 |
| GTC-2 P13 | RWB_JoeyCannoli | 171.593 |
| GTC-2 P14 | S7R_Max_Capacity | 171.63 |
| GTC-2 P15 | MaGiCxCoOkZxX | 171.736 |

| Position | PSN | 3rd & 4th Fastest Combined |
| --- | --- | --- |
| GTC-3 P1 | T64Turbo | 171.87 |
| GTC-3 P2 | OGR-darrin_1972 | 171.975 |
| GTC-3 P3 | NLR_Knudsen84 | 171.985 |
| GTC-3 P4 | HPR_82 | 171.999 |
| GTC-3 P5 | Quic_Kick | 172.048 |
| GTC-3 P6 | RWB_Venom | 172.057 |
| GTC-3 P7 | LJ_v15 | 172.116 |
| GTC-3 P8 | RWB_Green | 172.174 |
| GTC-3 P9 | Budsy76 | 172.198 |
| GTC-3 P10 | Carbonboy84 | 172.249 |
| GTC-3 P11 | ATK_037 | 172.307 |
| GTC-3 P12 | OGR_toolshed | 172.437 |
| GTC-3 P13 | SpeedPhreek99 | 172.581 |
| GTC-3 P14 | ICER_Tube-nvNZ | 172.678 |
| GTC-3 P15 | OGR-TLRracetek | 172.934 |

| Position | PSN | 3rd & 4th Fastest Combined |
| --- | --- | --- |
| GTC-4 P1 | Kruentis01 | 172.956 |
| GTC-4 P2 | PLE_BlackFriday | 172.97 |
| GTC-4 P3 | ICER_Kurama | 173.051 |
| GTC-4 P4 | SMiddM8 | 173.108 |
| GTC-4 P5 | xbenditx | 173.128 |
| GTC-4 P6 | ATK__DEATH | 173.226 |
| GTC-4 P7 | Flash7115 | 173.279 |
| GTC-4 P8 | ICER_Renegade575 | 173.29 |
| GTC-4 P9 | RWB_Chevy210 | 173.358 |
| GTC-4 P10 | drybonesmalone | 173.374 |
| GTC-4 P11 | RicardasLTU | 173.488 |
| GTC-4 P12 | RWB_litlemac26 | 173.501 |
| GTC-4 P13 | FryantheWyskas | 173.613 |
| GTC-4 P14 | SuGGiT2TiMeZ | 173.698 |
| GTC-4 P15 | A-rmanis | Reserve to Full Time |
| Position | PSN | 3rd & 4th Fastest Combined |
| --- | --- | --- |
| GTC-5 P1 | S7R LET IT RIP | 173.736 |
| GTC-5 P2 | ATK_AccursedAx | 173.872 |
| GTC-5 P3 | ATK_FASTGINGER1 | 173.892 |
| GTC-5 P4 | BFE_Griztroopers | 173.894 |
| GTC-5 P5 | ICER-Devlin | 174.182 |
| GTC-5 P6 | BFER__jay49 | 174.301 |
| GTC-5 P7 | RWB_Spyder | 174.51 |
| GTC-5 P8 | Fryy420 | 174.805 |
| GTC-5 P9 | TURBO-stevo | 174.805 |
| GTC-5 P10 | SN1P3R | 174.908 |
| GTC-5 P11 | HyPrix_FormulaJuan | 174.963 |
| GTC-5 P12 | ASER_Woks-159 | 175.181 |
| GTC-5 P13 | Stangman50 | 175.389 |
| GTC-5 P14 | MiguelDizzle1O | 175.517 |
| GTC-5 P15 | Lucky-alpha79 | 175.571 |
| Position | PSN | 3rd & 4th Fastest Combined |
| --- | --- | --- |
| GTC-6 P1 | DRE_HardWire | 176.015 |
| GTC-6 P2 | XxREMI22 | 176.85 |
| GTC-6 P3 | xOkJakex | 177.435 |
| GTC-6 P4 | ICER_Diabolus | 177.464 |
| GTC-6 P5 | CaptainJack | 178.084 |
| GTC-6 P6 | ICER_Nightmare | 179.089 |
| GTC-6 P7 | ATKbrothersmajer | 179.142 |
| GTC-6 P8 | ICER_Shadowrxin | 179.256 |
| GTC-6 P9 | ChipReese | 179.823 |
| GTC-6 P10 | IRL_Powerz | n/a |
| GTC-6 P11 | | |
| GTC-6 P12 | | |
| GTC-6 P13 | | |
| GTC-6 P14 | | |
| GTC-6 P15 | | |
| Round | Date | Track | Conditions | Class | Car |
| --- | --- | --- | --- | --- | --- |
| Qualifier | 18-MAR | Deep Forest | Afternoon S1 | GT3 | Mazda Atenza |
| 1 | 25-MAR | Laguna Seca | Early Morning S18 | GT4 | Viper |
| 2 | 01-APR | Barcelona (No Chicane) | Late Morning S08 | GT3 | Renault RS.0.1 |
| Easter Break | 08-APR | OFF | | OFF | OFF |
| 3 | 15-APR | Red Bull Ring | Afternoon C02 | GT4 | Megane (Not Trophy) |
| 4 | 22-APR | Spa 24 Hour | Dawn S7 | GT3 | Ferrari 458 |
| 5 | 29-APR | Brands Hatch | Afternoon C06 | GT4 | BMW M4 |
| 6 | 06-MAY | Nurburgring GP | Late Morning S4 | GT3 | Aston Martin DBR 9 |
| 7 | 13-MAY | Big Willow | Sunset S1 | GT4 | Corvette |
| 8 | 20-MAY | Monza (w/chicane) | Late Morning S7 | GT3 | Lamborghini |
| 9 | 27-MAY | Grand Valley Hwy 1 | Early Morning S3 | GT4 | Alpha 155 |
| 10 | 03-JUN | Suzuka | Early Morning S02 | GT3 | Nissan R35 '18 |
Registered Drivers 3-17-2023 | 7:15pm ET (98)
| Reg Number | Timestamp | PSN | Country | Team | Reserve | No Driver Image |
| --- | --- | --- | --- | --- | --- | --- |
| 1 | 2023-02-12 12:27:59 | Avrg_Viper | United Kingdom | HyPrix | Yes | |
| 2 | 2023-02-12 12:28:15 | SDRT_madsda | New Zealand | ICER eSports | | |
| 3 | 2023-02-12 12:28:45 | XxScarface23xX | USA | FR Bono Racing | | |
| 4 | 2023-02-12 12:29:40 | SR_SLIPSTREAM | Poland | Black Flag Racing | | |
| 5 | 2023-02-12 12:30:10 | drybonesmalone | USA | HyPrix | | |
| 6 | 2023-02-12 12:30:56 | kawazuri | United Kingdom | Hyprix | | |
| 7 | 2023-02-12 12:32:03 | NLR_Knudsen84 | Denmark | NOLLER RACING | | |
| 8 | 2023-02-12 12:34:19 | BFE_Griztroopers | USA | Black Flag Racing | | |
| 9 | 2023-02-12 12:35:02 | ELIMARCB | Canada | Victory Pace Racing | Yes | Needed Driver Image |
| 10 | 2023-02-12 12:37:01 | RWB_Spyder | USA | RWB | | |
| 11 | 2023-02-12 12:39:03 | RustyMaggots | USA | FR Bono Racing | | |
| 12 | 2023-02-12 12:46:08 | BFER__jay49 | United Kingdom | Black Flag Racing | | |
| 13 | 2023-02-12 12:50:48 | TTV_B1teTheRoses (Hyprix_Roses on GT7) | United Kingdom | Hyprix | | |
| 14 | 2023-02-12 12:53:02 | RWB_PresidioDog | USA | RWB | | |
| 15 | 2023-02-12 12:53:46 | ATK_037 | Canada | Attack Motorsport | | |
| 16 | 2023-02-12 12:59:02 | ICER_Diabolus | Australia | ICER eSports | | |
| 17 | 2023-02-12 13:00:43 | ASER_Woks-159 | Australia | ASER, All STATES E RACING | | |
| 18 | 2023-02-12 13:08:28 | Da_Truth_Serum | Canada | Fr Bono Racing | | |
| 19 | 2023-02-12 13:09:57 | Ando787 | Australia | FR Bono Racing | | |
| 20 | 2023-02-12 13:14:41 | ATKbrothersmajer | USA | ATTACK MOTORSPORTS | | Needed Driver Image |
| 21 | 2023-02-12 13:27:56 | PLE_BlackFriday | Australia | PLE | | |
| 22 | 2023-02-12 13:48:02 | VTX_Sharky88 | Australia | Independent | | |
| 23 | 2023-02-12 13:52:46 | Carbonboy84 | Australia | Sector1 | | |
| 24 | 2023-02-12 13:55:54 | RWB_Venom | USA | RWB/HBR | | |
| 25 | 2023-02-12 13:56:18 | Tcufrogs777 | Colombia | HyPrix | | |
| 26 | 2023-02-12 14:05:16 | Bukwild76 | USA | RWB | | |
| 27 | 2023-02-12 14:20:48 | RWB_Chevy210 | USA | RWB | | |
| 28 | 2023-02-12 14:23:49 | Stangman50 | Canada | Hyprix | | |
| 29 | 2023-02-12 14:27:48 | SOE_TsbapB | Canada | SOE | | |
| 30 | 2023-02-12 14:29:02 | temp-3442565 | USA | independent | | Needed Driver Image |
| 31 | 2023-02-12 14:44:31 | TottoWolff-JP | France | Independent | | Needed Driver Image |
| 32 | 2023-02-12 15:08:45 | BiPolarXpres | USA | Hyprix | | |
| 33 | 2023-02-12 15:15:01 | NWR_NICO71 | Australia | Robbo Sport Racing | | |
| 34 | 2023-02-12 15:43:34 | ATK_AccursedAx | USA | Attack Motorsports ISRT | | |
| 35 | 2023-02-12 15:50:24 | FryantheWyskas | Spain | Independent | | |
| 36 | 2023-02-12 15:55:12 | OGR-CycloneDan77 | Australia | OGR Old Guys Racing | | Needed Driver Image |
| 37 | 2023-02-12 15:56:05 | RWB_Igorski | USA | RWB | | |
| 38 | 2023-02-12 15:57:49 | RWB_litlemac26 | USA | RWB | | |
| 39 | 2023-02-12 16:00:27 | RWB_JoeyCannoli | USA | RWB | | |
| 40 | 2023-02-12 16:18:47 | ART_Woolly | United Kingdom | ART | | |
| 41 | 2023-02-12 16:38:14 | GC12_FormulaJuan | USA | Hyprix | | |
| 42 | 2023-02-12 17:00:36 | HPR_82 | Malaysia | Independent | | |
| 43 | 2023-02-12 17:01:13 | MaGiCxCoOkZxX | USA | Independent | | |
| 44 | 2023-02-12 17:12:20 | ICER_Renegade575 | Australia | ICER eSports | | |
| 45 | 2023-02-12 17:17:56 | CaptainMuffin88 | Australia | Shakedown | | |
| 46 | 2023-02-12 18:58:34 | RWB_Green | USA | RWB | | |
| 47 | 2023-02-12 19:32:55 | RidwanF1 | Australia | FR Bono Racing | | |
| 48 | 2023-02-12 19:41:45 | A-rmanis | Lithuania | Black Flag Racing | Yes | |
| 49 | 2023-02-12 19:46:35 | OGR_toolshed | Australia | OGR Old Guys Racing | | Needed Driver Image |
| 50 | 2023-02-12 20:10:22 | XxREMI22 | USA | Impact Culture | | |
| 51 | 2023-02-12 22:02:27 | xOkJakex | USA | Impact Culture | | |
| 52 | 2023-02-12 22:26:51 | SMiddM8 | Australia | PLE | | |
| 53 | 2023-02-13 01:23:43 | ICER_Tube-nvNZ | New Zealand, Australian | ICER eSports | Yes | |
| 54 | 2023-02-13 03:47:35 | xbenditx | The netherlands | Black Flag Racing | | |
| 55 | 2023-02-13 04:20:25 | Kruentis01 | United Kingdom | ICER eSports | | |
| 56 | 2023-02-13 09:50:40 | ClintFreeman_83 | USA | Independent | | |
| 57 | 2023-02-13 12:02:33 | S7R_Max_Capacity | USA | Sector 7 Racing | | |
| 58 | 2023-02-13 16:03:20 | THG-Method | USA | THG - The Humble Guys | | Needed Driver Image |
| 59 | 2023-02-13 18:18:12 | Fryy420 | USA | Nitro | | Needed Driver Image |
| 60 | 2023-02-13 18:27:57 | ATK_FASTGINGER1 | USA | Attack Motorsports | | |
| 61 | 2023-02-13 20:12:22 | Limelicker | USA | Cc sim | | |
| 62 | 2023-02-13 20:29:18 | S7R LET IT RIP | Guatemala | Sector 7 Racing | | |
| 63 | 2023-02-14 03:47:17 | ChipReese | USA | Victory Pace Racing | | Needed Driver Image |
| 64 | 2023-02-14 11:05:43 | RWB_Jrod23 | USA | RWB | | |
| 65 | 2023-02-14 12:36:09 | ICER_Shadowrxin | USA | ICER eSports | | |
| 66 | 2023-02-15 02:05:00 | Dpmario | Australia | ICER eSports | | |
| 67 | 2023-02-17 06:36:31 | ICER_SCALLE | Belgium | ICER eSports | | |
| 68 | 2023-02-17 19:45:41 | ATK__DEATH | USA | Attack Motorsports ISRT | | |
| 69 | 2023-02-18 00:15:27 | Colin_t24 | Australia | Robbo Sport Racing | | |
| 70 | 2023-02-18 20:43:55 | Kaizen_TY98 | Australia | Black Flag Racing | | Needed Driver Image |
| 71 | 2023-02-19 01:44:39 | BlockyRex9779 | New Zealand | FR Bono Racing | | |
| 72 | 2023-02-19 03:37:15 | Budsy76 | Australia | ICER eSports | | |
| 73 | 2023-02-19 19:51:54 | KRAKEN__QC | Canada | Independent | | |
| 74 | 2023-02-25 00:32:28 | Rusty-Nutz-75 | Australia | Robbo Sport Racing | | Needed Driver Image |
| 75 | 2023-02-27 15:21:02 | Pranavsuperstar | Canada | PSRT | | Needed Driver Image |
| 76 | 2023-02-28 17:50:48 | GREASYSAMSQUANCH | Canada | RTK | Yes | Needed Driver Image |
| 77 | 2023-03-01 13:43:24 | APEX_Jakey2309 | United Kingdom | APEX Sim Racing Team | | Needed Driver Image |
| 78 | 2023-03-01 18:03:40 | Temp-937230 | Canada | Independent | | |
| 79 | 2023-03-03 18:46:30 | ICER_Nightmare | Australia | ICER eSports | | Needed Driver Image |
| 80 | 2023-03-03 20:41:18 | RwB-HHRBigMac | United Kingdom | Independent | | |
| 81 | 2023-03-06 12:28:11 | ICER-Devlin | Belgium | ICER eSports | | Needed Driver Image |
| 82 | 2023-03-06 17:11:52 | OGR-TLRracetek | Australia | ICER eSports | | |
| 83 | 2023-03-06 21:08:14 | OGR-darrin_1972 | Australia | ICER eSports | | |
| 84 | 2023-03-06 22:04:23 | Flash7115 | Australian | ICER eSports | | |
| 85 | 2023-03-07 06:47:27 | BlackDragonTTV | USA | Independent | | |
| 86 | 2023-03-08 02:20:45 | Trust_Kurama | France | ICER eSports | | Needed Driver Image |
| 87 | 2023-03-08 10:44:45 | S7R_Nuke | USA | Sector 7 Racing | Yes | |
| 88 | 2023-03-09 17:26:54 | TURB0-stevo | Australia | ICER eSports | | |
| 89 | 2023-03-10 19:22:54 | LJ_v15 | Australia | Independent | | |
| 90 | 2023-03-10 21:31:34 | S1_Cruzin_088 | Australia | Sector 1 | | |
| 91 | 2023-03-12 14:49:00 | RicardasLTU | Lithuania | Black Flag Racing | | |
| 92 | 2023-03-13 02:36:03 | T64turbo | USA | Independent | | |
| 93 | 2023-03-13 05:42:52 | MonkeyManMachoLT | Lithuania | Black Flag Racing | | |
| 94 | 2023-03-14 04:19:55 | Cz3chy_official | Czech republic | CORG | | Needed Driver Image |
| 95 | 2023-03-14 12:10:57 | Quic_Kick | USA | FR Bono Racing | | Needed Driver Image |
| 96 | 2023-03-16 07:37:24 | CAPTAINJACKOXDDD | United Kingdom | RED BULL | | |
| 97 | 2023-03-17 09:40:01 | DRE_HardWire | Bulgaria | Independent | Yes | Needed Driver Image |
| 98 | 2023-03-17 14:52:50 | SN1P3R | Canada | FR BONO | | Needed Driver Image |