About the Qualifiers
Check the calendar at the bottom of this page for more info!
About Race Start Times
Always keep in mind timezone changes for your area and the Eastern timezone as the base timezone for the series.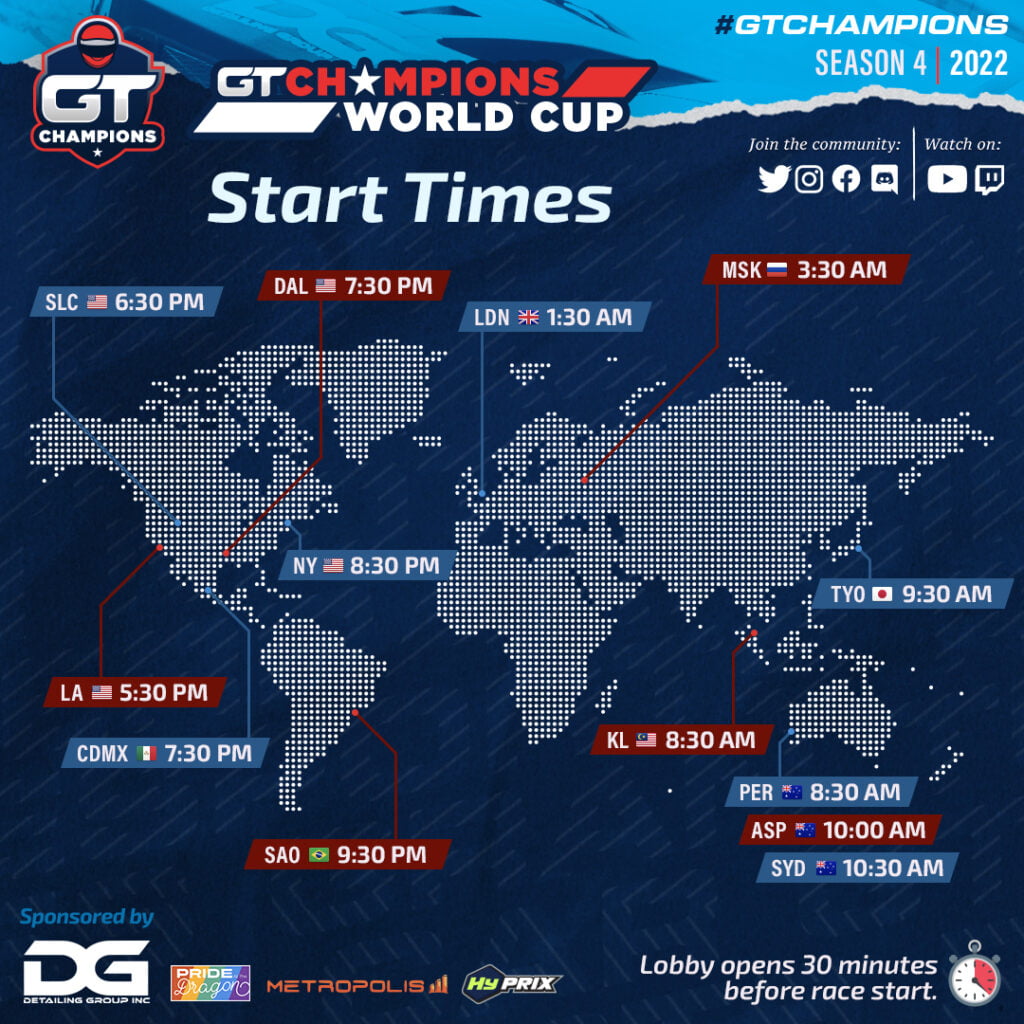 Watch the GTC-1 Division Live On these Platforms
GTC-2 will be streamed LIVE on YouTube.
GTC-3 and GTC-4 may be re-broadcasted from a replay.

Races will be 90 minutes with the pit window between the minute 50 to minute 40 like in the previous season.
Races begin Saturday's at 8:30pm Eastern Time. Lobby Hosts: TBD
DESCRIPTION:
Welcome Racers to the 4th season of the GT Champions World Cup. This will be our first sanctioned season in Gran Turismo 7! In this series there are ten 90 minute races that will pressure you to race hard but you will have to keep in mind Fuel and Tire wear will be a factor in every race!
Each race you will only get one pit window, the pit window opens at minute 50:00 and ends at 40:00, so please make sure you pay attention to that clock because you don't want to miss the pit window. Each race through the series is a reverse grid to make things a little more spicy.
You will be required to use two compounds during the race, Racing Mediums and Racing Softs,. You are required to run a full stint on each set of tires, or you will be heavily penalized.
This series is a full damage series so you must me patient and know your driving Etiquette, and Flag Rules. Because it is FULL DAMAGE you are allowed to fix damage at any time during the race but remember if receive Fuel and or Tires outside the pit Window you will be penalized 1:00 for that infraction.
RACE REGULATIONS: Official Rule Book here
(Updated 30-OCT-2022 11:30pm ET)
BOP
NO Tune
Tire Wear – GT-3=x1 and GT-4=x1
Fuel Wear – x2
Slipstream: Real
Grip: Real
Damage: Full
Shortcut Penalty: Weak
Ghosting: Off
LIVERY REQUIREMENTS:
You will have a lot of freedom with your Liveries all we ask is you keep it PG, the top two lobbies will be streamed so nothing obscene,
Official Number Placards are required on both sides of the car and on the hood/bonnet. ALL NUMBERS TO BE BLACK. And the same font or similar to in game numbers.
Windscreen decal required above windscreen.
Decals available by searching GTC or on the PSN profile: GTC_OFFICIAL
Sponsor logo for the Title Sponsor on both sides of the car, the rear of the car, and on the hood.
In your livery's , make sure to go to driving options and choose a placard then your number, then turn off the placard. This will ensure that your proper driver number shows up when the streamer is watching your car on the stream and hits driver info. Driver info shows stats, car number and car make/model as well as your helmet livery.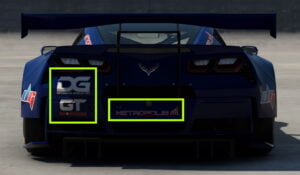 INCIDENT REPORTS:
Incidents are to be reported within 24 hours of race completion. Use the link below to report an incident.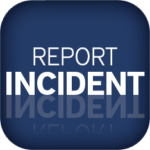 World Cup | Season 4 | GTC-1 | Initial Qualifying
| Position | PSN | Team | Country | GT3-Lap 1 | GT3-Lap 2 | GT4-Lap 1 | GT4-Lap 2 | Total time |
| --- | --- | --- | --- | --- | --- | --- | --- | --- |
| GTC-1 P1 | BiPolarXpres | HyPrix | USA | 65.753 | 65.442 | 89.007 | 89.148 | 309.35 |
| GTC-1 P2 | Ando787 | FR Racing | Australia | 66.055 | 65.801 | 88.822 | 88.824 | 309.502 |
| GTC-1 P3 | SDRT_Madsda | ICER | Australia | 66.302 | 65.703 | 88.852 | 88.795 | 309.652 |
| GTC-1 P4 | APEX_PayMay | APEX Sim Racing Team | USA | 65.98 | 66.381 | 89.024 | 88.949 | 310.334 |
| GTC-1 P5 | ACE_Riyo | ACE | Malaysia | 66.298 | 66.154 | 88.901 | 89.049 | 310.402 |
| GTC-1 P6 | Apex_Jakey | APEX Sim Racing Team | UK | 66.724 | 66.086 | 88.596 | 89.132 | 310.538 |
| GTC-1 P7 | RidwanF1 | FR Racing | Serbia | 66.319 | 66.181 | 88.843 | 89.432 | 310.775 |
| GTC-1 P8 | TPC_Pigems | TPC | Canada | 66.379 | 66.189 | 89.432 | 89.015 | 311.015 |
| GTC-1 P9 | ATK_Streetrtom | ATK | USA | 66.284 | 66.287 | 89.409 | 89.111 | 311.091 |
| GTC-1 P10 | TCR_Badazz350x | APEX Sim Racing Team | Canada | 66.154 | 66.2 | 89.357 | 89.509 | 311.22 |
| GTC-1 P11 | ninjakid_02 | RWB | USA | 66.666 | 66.301 | 89.075 | 89.211 | 311.253 |
| GTC-1 P12 | MonarchLewis | PLE | New Zealand | 66.48 | 66.431 | 89.049 | 89.343 | 311.303 |
| GTC-1 P13 | SOE_Tsbap | SOE | Canada | 66.417 | 66.5 | 89.35 | 89.118 | 311.385 |
| GTC-1 P14 | LukeAss36 | PRA | USA | 66.471 | 66.432 | 89.213 | 89.509 | 311.625 |
| GTC-1 P15 | Knucks_3 | Sector 1 | Australia | 66.739 | 66.301 | 89.464 | 89.359 | 311.863 |

World Cup | Season 4 | GTC-2 | Initial Qualifying
| Position | PSN | Team | Country | GT3-Lap 1 | GT3-Lap 2 | GT4-Lap 1 | GT4-Lap 2 | Total time |
| --- | --- | --- | --- | --- | --- | --- | --- | --- |
| GTC-2 P1 | xSparkyBoomMan | GT45 | Canada | 66.501 | 66.539 | 89.456 | 89.735 | 312.231 |
| GTC-2 P2 | tcufrogs777 | MoparAlysis ATX | Columbia | 66.532 | 66.048 | 90.034 | 90.036 | 312.65 |
| GTC-2 P3 | APEX_Roses | APEX Sim Racing Team | UK | 66.55 | 66.587 | 89.939 | 89.579 | 312.655 |
| GTC-2 P4 | ART_Woolly | ART | UK | 66.719 | 66.801 | 89.752 | 90.108 | 313.38 |
| GTC-2 P5 | Valex | Privateer | Argentina | 66.874 | 66.639 | 89.82 | 90.087 | 313.42 |
| GTC-2 P6 | Terbeaux333 | Privateer | USA | 66.867 | 66.811 | 90.268 | 89.872 | 313.818 |
| GTC-2 P7 | RWB_litlemac26 | RWB | USA | 67.05 | 67.123 | 89.756 | 90.018 | 313.947 |
| GTC-2 P8 | APEX_TAT2DFREAK | APEX Sim Racing Team | Canada | 66.633 | 67.503 | 89.726 | 90.555 | 314.417 |
| GTC-2 P9 | RustyMaggots | FR Racing | USA | 66.993 | 67.245 | 90.117 | 90.266 | 314.621 |
| GTC-2 P10 | tommymoon607 | Privateer | USA | 67.806 | 67.129 | 89.562 | 90.159 | 314.656 |
| GTC-2 P11 | HPR_82 | GSR eMotorsports | Malaysia | 67.735 | 66.973 | 89.924 | 90.316 | 314.948 |
| GTC-2 P12 | Da_Truth_Serum | FR Racing | Canada | 67.503 | 67.733 | 89.562 | 90.159 | 314.957 |
| GTC-2 P13 | Carbonboy84 | Sector 1 | Australia | 67.206 | 67.336 | 90.57 | 89.898 | 315.01 |
| GTC-2 P14 | Buknastie1 | Privateer | USA | 66.956 | 67.046 | 90.602 | 90.62 | 315.224 |
| GTC-2 P15 | RWB_Venom | RWB | USA | 67.105 | 67.393 | 90.332 | 90.542 | 315.372 |

World Cup | Season 4 | GTC-3 | Initial Qualifying
| Position | PSN | Team | Country | GT3-Lap 1 | GT3-Lap 2 | GT4-Lap 1 | GT4-Lap 2 | Total time |
| --- | --- | --- | --- | --- | --- | --- | --- | --- |
| GTC-3 P1 | AMS_Mikhail24RD | AMS | USA | 67.371 | 67.071 | 90.633 | 90.923 | 315.998 |
| GTC-3 P2 | RWB_JoeyCannoli | RWB | USA | 67.081 | 66.658 | 91.703 | 90.764 | 316.206 |
| GTC-3 P3 | Nolander1978 | Privateer | USA | 67.258 | 67.665 | 90.991 | 90.325 | 316.239 |
| GTC-3 P4 | RWB_Green | RWB | USA | 67.202 | 67.693 | 91.195 | 90.2 | 316.29 |
| GTC-3 P5 | SMiddM8 | PLE | Australia | 68.584 | 68.546 | 89.994 | 89.631 | 316.755 |
| GTC-3 P6 | RWB_Spyder | RWB | USA | 68.303 | 67.972 | 90.413 | 90.111 | 316.799 |
| GTC-3 P7 | RWB_Jrod23 | RWB | USA | 68.136 | 67.732 | 90.748 | 90.617 | 317.233 |
| GTC-3 P8 | ATK_037 | ATK | Portugal | 67.56 | 67.275 | 90.475 | 91.95 | 317.26 |
| GTC-3 P9 | Vipersfang | FR Racing | Australia | 67.972 | 67.571 | 90.482 | 91.297 | 317.322 |
| GTC-3 P10 | EgonIII | GT45 | Canada | 67.724 | 67.196 | 91.354 | 91.341 | 317.615 |
| GTC-3 P11 | PLE_BlackFriday | PLE | Australia | 69.026 | 67.839 | 90.642 | 90.203 | 317.71 |
| GTC-3 P12 | Limelicker_CCSR | CC Sim Racing | USA | 68.146 | 68.09 | 90.972 | 90.95 | 318.158 |
| GTC-3 P13 | RWB_Squirmy | RWB | USA | 68.743 | 68.916 | 90.834 | 90.198 | 318.691 |
| GTC-3 P14 | XxScarface23xX | FR Racing | USA | 68.344 | 67.611 | 91.655 | 91.216 | 318.826 |
| GTC-3 P15 | RWB_Chevy210 | RWB | USA | 68.298 | 68.157 | 91.253 | 91.466 | 319.174 |
| GTC-3 P16 | HBR_Toxin | HBR | Australia | 68.653 | 69.384 | 90.688 | 90.928 | 319.653 |

World Cup | Season 4 | GTC-4 | Initial Qualifying
| Position | PSN | Team | Country | GT3-Lap 1 | GT3-Lap 2 | GT4-Lap 1 | GT4-Lap 2 | Total time |
| --- | --- | --- | --- | --- | --- | --- | --- | --- |
| GTC-4 P1 | DRE_SCALLE | ICER | Belgium | 67.403 | 68.223 | 91.503 | 92.604 | 319.733 |
| GTC-4 P2 | RR_Ghost45 | Rockafella | Canada | 67.099 | 67.053 | 90.259 | 95.696 | 320.107 |
| GTC-4 P3 | RWB_Petey | RWB | USA | 68.106 | 68.198 | 91.506 | 92.506 | 320.316 |
| GTC-4 P4 | RWB_Igorski | RWB | USA | 68.042 | 68.356 | 92.612 | 91.599 | 320.609 |
| GTC-4 P5 | Avrg_Viper | HyPrix | UK | 68.766 | 69.29 | 91.447 | 91.333 | 320.836 |
| GTC-4 P6 | heathen_fxdb | APEX | USA | 68.572 | 67.993 | 92.753 | 92.691 | 322.009 |
| GTC-4 P7 | DRE_DEVLIN | ICER | Belgium | 68.957 | 68.995 | 91.81 | 92.263 | 322.025 |
| GTC-4 P8 | kruentis01 | ICER | UK | 68.229 | 68.502 | 92.613 | 92.747 | 322.091 |
| GTC-4 P9 | OGR_toolshed | APEX | Australia | 68.757 | 68.526 | 91.647 | 94.443 | 323.373 |
| GTC-4 P10 | ASER Woks_159 | All States E Racing | Australia | 68.984 | 68.865 | 94.057 | 92.328 | 324.234 |
| GTC-4 P11 | CAPTAINJACKOXDDD | Team Bull | UK | 72.431 | 69.593 | 91.053 | 91.56 | 324.637 |
| GTC-4 P12 | SBN_Jett | Privateer | USA | 70.461 | 68.908 | 93.52 | 92.806 | 325.695 |
| GTC-4 P13 | XxREMI22 | Privateer | USA | 70.472 | 69.574 | 93.327 | 93.054 | 326.427 |
| GTC-4 P14 | ICER_Benjo | ICER | Australia | 71.053 | 70.255 | 92.981 | 92.169 | 326.458 |
| GTC-4 P15 | Stangman50ca | Privateer | Canada | 68.806 | 71.929 | 92.642 | 93.693 | 327.07 |
| GTC-4 P16 | ChipReese | Privateer | USA | 72.939 | 73.24 | 93.93 | 95.486 | 335.595 |
| Round | Date | Group | Car | Course | Time |
| --- | --- | --- | --- | --- | --- |
| Q1 | 27-28- AUG | GT-3 | Corvette | Blue Moon Infield A | Afternoon S 01 |
| Q2 | 27-28- AUG | GT-4 | Jaguar F-Type | Brands Hatch GP | Afternoon S 03 |
| 1 | 2022-09-10 00:00:00 | GT-4 | Nissan Silvia TC (S15) | Deep Forrest | Early Morning S 03 |
| 2 | 2022-09-17 00:00:00 | GT-3 | Mitsubishi Evo | Mount Panarama | Evening S 01 |
| 3 | 2022-09-24 00:00:00 | GT-4 | Porsche Cayman | Goodwood | Afternoon C 03 |
| 4 | 2022-10-01 00:00:00 | GT-3 | Mercedes SLS AMG | Daytona Infield | Sunrise S 08 |
| 5 | 2022-10-08 00:00:00 | GT-4 | Toyota Supra | Autopolis | Night S 02 |
| 6 | 2022-10-15 00:00:00 | GT-3 | BMW M3 | Barcelona | Afternoon S 04 |
| 7 | 2022-10-22 00:00:00 | GT-4 | Renault Megane Trophy | Trial Mountain | Sunrise S 12 |
| 8 | 2022-10-29 00:00:00 | GT-3 | Ford GT LM '18 Race Car | Walkins Glen | Twilight S 01 |
| 9 | 2022-11-05 00:00:00 | GT-4 | Genesis G70 | High Speed Ring | Early Morning C 01 |
| 10 | 2022-11-12 00:00:00 | GT-3 | Subaru BRZ GT300 | Fuji Full | Late Morning C 06 |
Final Registrations List 12:00AM ET 27-AUG-2022 - 87 Entries
| Timestamp | PSN | Team Name If Applicable | Country of Origin | | | | | | |
| --- | --- | --- | --- | --- | --- | --- | --- | --- | --- |
| 2022-08-03 17:17:26 | Avrg_Viper | HyPrix | United Kingdom | | | | | | |
| 2022-08-03 17:17:54 | TsbapB | SOE | Canada | | | | | | |
| 2022-08-03 17:18:33 | RWB_Squirmy | RWB | United States | | | | | | |
| 2022-08-03 17:19:16 | Cdog7410 | Privateer | Canada | | | | | | |
| 2022-08-03 17:19:38 | heathen_fxdb | APEX Sim Racing Team | United States | | | | | | |
| 2022-08-03 17:19:44 | Buknastie1 | Privateer | United States | | | | | | |
| 2022-08-03 17:19:55 | forzaferrariop05 | HyPrix | Scotland | | | | | | |
| 2022-08-03 17:19:56 | tommymoon607 | Privateer | United States | | | | | | |
| 2022-08-03 17:20:06 | PLE_BlackFriday | Pit Lane eSports | Australia | | | | | | |
| 2022-08-03 17:20:32 | RustyMaggots | FR Racing | United States | | | | | | |
| 2022-08-03 17:20:53 | RWB_Chevy210 | RWB | United States | | | | | | |
| 2022-08-03 17:21:15 | RWB_litlema26 | RWB | United States | | | | | | |
| 2022-08-03 17:21:48 | RWB_Spyder | RWB | United States | | | | | | |
| 2022-08-03 17:24:54 | ATK_Streetrtom | Attack Motorsport ISRT | United States | | | | | | |
| 2022-08-03 17:25:03 | RWB_Petey | RWB | United States | | | | | | |
| 2022-08-03 17:28:21 | SDRT_Madsda | ICER | New Zealand | | | | | | |
| 2022-08-03 17:29:34 | ART_Woolly | Amigos Racing Team | United Kingdom | | | | | | |
| 2022-08-03 17:29:36 | Knucks_3 | Sector1 Sim Racing | Australia | | | | | | |
| 2022-08-03 17:30:43 | Stangman50ca | Privateer | Canada | | | | | | |
| 2022-08-03 17:32:18 | RWB_JoeyCannoli | RWB | United States | | | | | | |
| 2022-08-03 17:32:40 | HBR_Toxin | HBR | United States | | | | | | |
| 2022-08-03 17:38:49 | ASER Woks_159 | All States E Racing | Australia | | | | | | |
| 2022-08-03 17:39:08 | APEX_TAT2DFREAK | APEX Sim Racing Team | United States | | | | | | |
| 2022-08-03 17:48:38 | xSparkyBoomMan | Privateer | Canada | | | | | | |
| 2022-08-03 17:50:15 | RWB_Green | RWB | United States | | | | | | |
| 2022-08-03 17:50:16 | TCR_Badazz350x | APEX Sim Racing Team | CANADA | | | | | | |
| 2022-08-03 17:58:55 | Vipersfang | FR Racing | Australia | | | | | | |
| 2022-08-03 18:00:36 | betchur | APEX Sim Racing Team | United States | | | | | | |
| 2022-08-03 18:03:30 | forzaferrariop05 | Hyprix | Scotland | | | | | | |
| 2022-08-03 18:10:18 | RWB_Venom | RWB/HBR | United States | | | | | | |
| 2022-08-03 18:12:54 | ICER_Benjo | Inter Continental eSports Group | Australia | | | | | | |
| 2022-08-03 18:16:31 | EgonIII | RWB | Canada | | | | | | |
| 2022-08-03 18:17:15 | Apex_Jakey | APEX Sim Racing Team | United Kingdom | | | | | | |
| 2022-08-03 18:18:08 | RWB_Jrod23 | RWB | United States | | | | | | |
| 2022-08-03 18:38:40 | DRE_DEVLIN | ICER | Belgium | | | | | | |
| 2022-08-03 18:55:11 | OGR_toolshed | Old Guys Racing | Australia | | | | | | |
| 2022-08-03 19:00:59 | artemisaiph | Privateer | United States | | | | | | |
| 2022-08-03 19:26:20 | RR_Ghost45 | Rockafella Racing | Canada | | | | | | |
| 2022-08-03 19:32:14 | ATK_037 | Attack Motorsports | Portugal | | | | | | |
| 2022-08-03 19:50:20 | MonarchLewis | Pit Lane Esports | New Zealand | | | | | | |
| 2022-08-03 20:10:25 | RWB_Igorski | RWB/HBR | United States | | | | | | |
| 2022-08-03 20:13:55 | SMiddM8 | Pit Lane Esports | Australia | | | | | | |
| 2022-08-03 20:17:56 | xOkJakex | Privateer | United States | | | | | | |
| 2022-08-03 21:11:14 | Carbonboy84 | Sector1 Sim Racing | Australia | | | | | | |
| 2022-08-03 23:56:43 | TTV_B1TETHEROSES | APEX Sim Racing Team | United Kingdom | | | | | | |
| 2022-08-04 02:35:18 | CaptainMuffin88 | Team53 (Reserve) | Australia | | | | | | |
| 2022-08-04 02:37:39 | ICER_Tube-nvNZ | ICER (Reserve) | New Zealand | | | | | | |
| 2022-08-04 14:53:42 | DRE_SCALLE | ICER | Belgium | | | | | | |
| 2022-08-04 16:35:57 | LukeAss36 | Privateer | United States | | | | | | |
| 2022-08-04 17:05:48 | pixteca | HyPrix | Mexico | | | | | | |
| 2022-08-04 20:38:34 | XxREMI22 | Privateer | United States | | | | | | |
| 2022-08-05 19:38:31 | ninjakid_02 | RWB | United States | | | | | | |
| 2022-08-05 21:23:58 | GT_bananajosh1 | Banana Racing | Australia | | | | | | |
| 2022-08-05 21:56:39 | Ando787 | FR Racing | Australia | | | | | | |
| 2022-08-05 22:45:42 | RidwanF1 | FR Racing | Serbia | | | | | | |
| 2022-08-06 02:03:33 | CAPTAINJACKOXDDD | Team Bull | United Kingdom | | | | | | |
| 2022-08-06 04:04:07 | Colin_t24 | RSR | Australia | | | | | | |
| 2022-08-06 07:18:15 | XxScarface23xX | FR Racing | United States | | | | | | |
| 2022-08-06 12:41:57 | Limelicker_CCSR | CC Sim Racing | United States | | | | | | |
| 2022-08-08 16:40:34 | Mobile_ledge1 | XSR Sim Racing | United States | | | | | | |
| 2022-08-09 06:39:39 | RWB_Cupcake | RWB racing | United States | | | | | | |
| 2022-08-09 22:28:19 | AMS_Mikhail24RD | Apex Motorsport | United States | | | | | | |
| 2022-08-10 18:48:07 | BiPolarXpres | HyPrix | United States | | | | | | |
| 2022-08-11 19:40:45 | TRR_YORDY-E | Team Raccoon Racing | Costa Rica | | | | | | |
| 2022-08-12 11:33:40 | bloodymikein97 | Privateer | United States | | | | | | |
| 2022-08-12 13:11:52 | murphysboredom | Privateer | United Kingdom | | | | | | |
| 2022-08-12 14:59:29 | Maplejuana | Self-Owned | United States | | | | | | |
| 2022-08-12 15:48:15 | Kruentis01 | ICER | United Kingdom | | | | | | |
| 2022-08-12 20:02:37 | Dstinct_Pulse | Dstinct | United States | | | | | | |
| 2022-08-13 01:45:16 | Twerk_man69 | Privateer | United States | | | | | | |
| 2022-08-13 05:49:59 | tcufrogs777 | MoparAlysis ATX | Colombia | | | | | | |
| 2022-08-14 16:47:37 | Terbeaux333 | Privateer | United States | | | | | | |
| 2022-08-16 08:55:03 | Nolander1978 | Privateer | United States | | | | | | |
| 2022-08-18 11:19:52 | GTMA_SimRacerAC | | Morocco | | | | | | |
| 2022-08-20 11:00:27 | APEX_PayMay | APEX Sim Racing Team | United States | | | | | | |
| 2022-08-20 15:10:05 | TPC_Pigems | TPC (The Pit Crew) | Canada | | | | | | |
| 2022-08-21 16:03:09 | DUMOULINmoi | ZRT | Canada | | | | | | |
| 2022-08-22 18:11:30 | Burnout_13 | Prodigy Racing Association | United States | | | | | | |
| 2022-08-22 18:25:52 | lukeman96 | Prodigy Racing Association | United States | | | | | | |
| 2022-08-22 21:21:13 | SBN_Jett | | USA | | | | | | |
| 2022-08-23 10:15:40 | BDogforever06 | (PRA) Prodigy Racing Association | USA | | | | | | |
| 2022-08-24 08:42:52 | TTR_EvO | Ted Trax Racing | Great Britain | | | | | | |
| 2022-08-25 05:46:26 | HPR_82 | GSR eMotorsports | Malaysia | | | | | | |
| 2022-08-25 10:24:18 | ACE_Riyo | - | Malaysia | | | | | | |
| 2022-08-25 16:42:19 | Valex997 | | Argentina | | | | | | |
| 2022-08-26 12:11:12 | FT-Hali | Nitro Motorsport ISRT | Canada | | | | | | |
| 2022-08-26 16:33:00 | ChipReese | | United States | | | | | | |