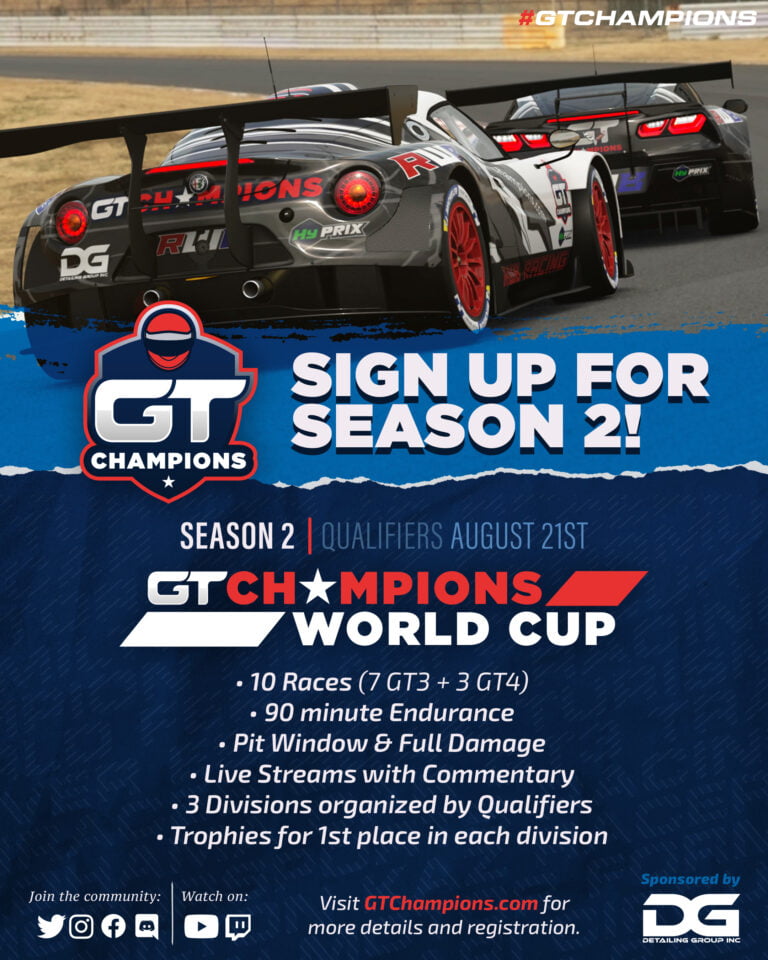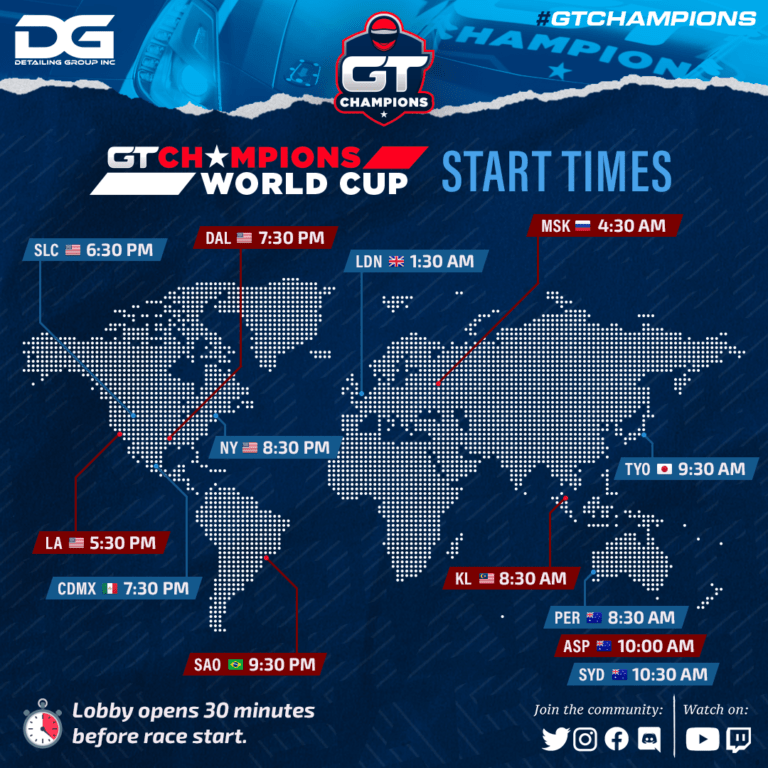 Watch the GTC-1 Division Live On these Platforms
GTC-2 and GTC-3 will be a re-broadcast. Stay tuned for more details.
Races will be 90 minutes with the pit window between the minute 50 to minute 40 like in the previous season.
Races begin Saturday at 8:30pm Eastern Time
Lobby Hosts: TBD
DESCRIPTION:
Welcome Racer's to the second season of the GT Champions World Cup. In this series there are 10, 90 minute races that will pressure you to race hard but you will have to keep in mind Fuel and Tire wear will be a factor in every race!
Each race you will only get one pit window, the pit window opens at minute 50:00 and ends at 40:00, you can keep track of that with the race ticker on the right hand side of the race screen so please make sure you pay attention to that clock because you don't want to miss the pit window.
You will be required to use two compounds during the race, Mediums and Softs, you are required to run a full stint on each set of tires, or you will be heavily penalized.
This series is a full damage series so you must me patient and know your driving Etiquette, and Flag Rules.
Because it is FULL DAMAGE you are allowed to fix damage at anytime during the race but remember if receive Fuel and or Tires outside the pit Window you will be penalized 1:00 for that infraction.
There will also be 1:00 minute penalties added to the end of the race for any racing incidents that are reported and we deem to aggressive so please keep it clean, it's a long race!
RACE REGULATIONS:
BOP
NO Tune
Tire Wear – GT-3=x1 and GT-4=x2
Fuel Wear – x2
Slipstream: Real
Grip: Real
Damage: Full
Shortcut Penalty: Weak
Ghosting: Off
Tires: You may only run 1 set of each tire. That means, if you start the race on Medium tires, then you must switch to soft tires for the 2nd half of the race. You are only allowed to change tires once.
LIVERY REQUIREMENTS:
You will have a lot of freedom with your Liveries all we ask is you keep it PG, the top two lobbies will be streamed so nothing obscene,
We will Have Number Placards available for you to get. You will be required to place those on each side of the car and one on the right hand side of the rear of the car.
Official Number Placards are required on both sides of the car and on the back right.
Decals available by searching GTC or on the PSN profile: GTC_OFFICIAL or HERE
Sponsor logo for Detailing Group (DG) on both sides of the car and on the hood.
In your livery's , make sure to go to driving options and choose a placard then your number, then turn off the placard. This will ensure that your proper driver number shows up when the streamer is watching your car on the stream and hits driver info. Driver info shows stats, car number and car make/model as well as your helmet livery.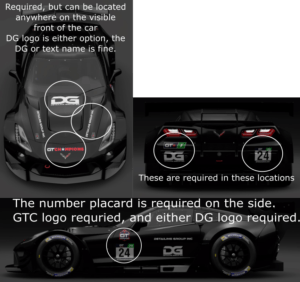 QUALIFYING:
Qualifying will be at Laguna (Weather Tech) in the GT-3 Mazda Atenza.
The beginning qualifier Date TBD when schedule comes out.
1 out lap, 3 hot laps, 1 cool down lap
Your time will determine the GTC division you will be running with. (see Divisions/Lobbies below)
For the fQualifier you will need to Friend.
RWB_Venom
RWB_Igorski
RWB_PresidioDog
Time TBD
Fuel and Tire wear will be off for qualifying and RS tires only.
After the initial Qualifier, each race Qualifier will be determined by your fastest lap time from the race before. Then ordered in reverse, so the fastest will start at the rear of the field in the next race.
Example: Race 2 Qualifier Order will be determined by your fastest lap time from race 1. Race 3 Qualifier will be determined by your fastest lap time in race 2, and so on and so forth.
If you miss a race and come back for the fallowing race, you will start from the back of the field! If you can't make a race please let your host know at least 12 hours before lobby opens so we can get a reserve in place.
DIVISIONS/LOBBIES:
There will be up to 3 classes of driver, and up to three divisions (lobbies). here is how it will work>>
All drivers will qualify during the initial qualifier. After the times are recorded, drivers will be placed into "Classes". The classes are
GTC-1
GTC-2
GTC-3
These classes will race in a Division (lobby) based on their class. The reason for the "Classes" and the "Divisions" is that there may be times when a division is short drivers. Race control will choose drivers from a lower numbered division, to race in the higher numbered division as to keep the higher divisions full. This will keep Division 1 and Division 2 full each race. Drivers likely should only be asked once to participate in a higher Division. We will try to keep top contenders competing in the same lobbies.
How the points will work.
Each "Class" driver will earn points based on their time. So if a driver is participating in a higher ranked lobby, their time will be compared to their "class" and not the actual finishing position in the race. This means that you can compete with drivers in other "classes" that might be faster than you, but if your time is faster than the other drivers in your "class", then you will gain the 1st position points. This means that drivers can compete in any Division (lobby) and still earn points in their class.
After each race has been reviewed and properly stewarded, results will be posted.
RULES AND REGULATIONS:
These are long races with full damage, you won't win on the first lap. Because of the full damage we don't want anyone stopping or waiting on the track, it is too much of a hazard for the other drivers, please keep racing and you will be given a penalty if reported. If you have any issues with contact, the stewards will review after the race.
You will only be given 3 strikes for aggressive contact like punting or forcing another driver off the track, after that you will be disqualified from the season.
Penalties must be served before crossing the start finish line. 5 second penalty per incident.
Penalties for contact:
First aggressive penalty 30 seconds. 2nd aggressive penalty 1:00 minute. 3rd aggressive penalty 2:00 and disqualified from the series
This race will be full damage so you can go into pits at anytime for damage but remember if you get tires and, or fuel outside of the pit window you will be penalized. Penalties will be delivered for each violation, it is not a one time thing.
PIT Penalties:
Fuel outside window-1:00 minute
Tires outside window- 1:00 minute
Both outside window-2:00 minute
5 Second penalty for crossing the pit lane entry/exit line.
To be clear…you must not cross pit entry line before 50:00 min left, and you must cross pit exit line no later than 40:00 left in the race.
Scoring:
1st place will receive 15 points down to last place receiving 1 point. Every position counts, so race hard, and fight for those positions, but above all RACE CLEAN, the stewards will be watching.
INCIDENT REPORTS:
Incidents are to be reported within 24 hours of race completion. Use the link below to report an incident.

World Cup | Season 2 | GTC-1 | Initial Qualifying
| Position | PSN | Car Number | Team | Lap 1 | Lap 2 | Lap 3 | Fastest |
| --- | --- | --- | --- | --- | --- | --- | --- |
| GTC-1 P1 | SDRT_Wiseacre | 144 | ICE Racing Group | 1:22.219 | 1:20.459 | 1:20.248 | 1:20.248 |
| GTC-1 P2 | ACE_Riyo | 210 | ACE | 1:20.258 | 1:20.412 | 1:20.851 | 1:20.258 |
| GTC-1 P3 | SDRT_Madsda | 169 | ICE Racing Group | 1:20.538 | 1:21.523 | 1:20.266 | 1:20.266 |
| GTC-1 P4 | BiPolarXpres | 92 | | 1:20.833 | 1:20.321 | 1:20.340 | 1:20.321 |
| GTC-1 P5 | CaptainMuffin88 | 98 | Team53 | 1:20.609 | 1:20.729 | 1:20.487 | 1:20.487 |
| GTC-1 P6 | GC12_SwftyNrthy | 214 | ICE Racing Group | 1:21.008 | 1:20.589 | 1:20.490 | 1:20.589 |
| GTC-1 P7 | GT_bananajosh1 | 99 | Banana Racing | 1:21.467 | 1:20.616 | 1:29.775 | 1:20.616 |
| GTC-1 P8 | ACE_AkaiSuisei13 | 13 | ACE | 1:21.010 | 1:20.745 | 1:20.895 | 1:20.745 |
| GTC-1 P9 | nxwxk | 74 | RWB | 1:21.450 | 1:21.271 | 1:20.759 | 1:20.759 |
| GTC-1 P10 | MOZ1978 | 101 | ESR | 1:21.040 | 1:20.767 | 1:27.198 | 1:20.767 |
| GTC-1 P11 | bigyin86 | 888 | ESR | 1:20.984 | 1:20.899 | 1:23.281 | 1:20.899 |
| GTC-1 P12 | KoA_HugoCardoso | 481 | Kings of Asphalt | 1:21.349 | 1:20.935 | 1:21.935 | 1:20.935 |
| GTC-1 P13 | RWB_PresidioDog | 24 | RWB | 1:30.350 | 1:21.027 | 1:22.886 | 1:21.027 |
| GTC-1 P14 | RWB_JoeyCannoli | 12 | RWB | 1:21.189 | 1:21.043 | 1:21.255 | 1:21.043 |
| GTC-1 P15 | GBubTrawick | 333 | Expendable Racing | 1:21.849 | 1:21.500 | 1:21.165 | 1:21.165 |

World Cup | Season 2 | GTC-2 | Initial Qualifying
| Position | PSN | Car Number | Team | Lap 1 | Lap 2 | Lap 3 | Fastest |
| --- | --- | --- | --- | --- | --- | --- | --- |
| GTC-2 P1 | Grayzwon | 550 | ICE Racing Group | 1:21.869 | 1:21.505 | 1:21.357 | 1:21.357 |
| GTC-2 P2 | BLACK_FRIDAY777 | 777 | ICE Racing Group | 1:21.372 | 1:21.570 | 1:21.426 | 1:21.372 |
| GTC-2 P3 | SirSlayer1991 | 931 | ICE Racing Group | 1:21.587 | 1:23.457 | 1:21.403 | 1:21.403 |
| GTC-2 P4 | GTMA_SimRacerAC | 0 | GTMA | 1:21.706 | 1:22.831 | 1:22.273 | 1:21.706 |
| GTC-2 P5 | Renegade_4701 | 575 | ICE Racing Group | 1:22.031 | 1:21.961 | 1:21.720 | 1:21.720 |
| GTC-2 P6 | lpalmonds | 4 | | 1:22.394 | 1:21.722 | 1:23.614 | 1:21.722 |
| GTC-2 P7 | BigRed_UofA | 420 | ICE Racing Group | 1:21.759 | 1:22.263 | 1:23.705 | 1:21.759 |
| GTC-2 P8 | MatSmaKa | 623 | ICE Racing Group | 1:22.718 | 1:23.038 | 1:21.862 | 1:21.862 |
| GTC-2 P9 | RWB_Jrod23 | 23 | RWB | 1:23.364 | 1:21.984 | 1:22.016 | 1:21.984 |
| GTC-2 P10 | SPYDERTEAM1 | 66 | RWB | 1:21.989 | 1:22.068 | 1:24.738 | 1:21.989 |
| GTC-2 P11 | Green1879 | 27 | | 1:22.030 | 1:22.874 | 1:22.116 | 1:22.030 |
| GTC-2 P12 | Avrg_Viper | 59 | HyPrix | 1:22.581 | 1:22.175 | 1:22.098 | 1:22.098 |
| GTC-2 P13 | RR_MagicMan | 78 | Rockafella Racing | 1:22.479 | 1:22.105 | 1:22.244 | 1:22.105 |
| GTC-2 P14 | RWB_Venom | 3 | RWB | 1:22.491 | 1:22.704 | 1:22.210 | 1:22.210 |
| GTC-2 P15 | Chevy210-55 | 55 | RWB | 1:22.343 | 1:22.307 | 1:22.525 | 1:22.307 |

World Cup | Season 2 | GTC-3 | Initial Qualifying
| Position | PSN | Car Number | Team | Lap 1 | Lap 2 | Lap 3 | Fastest |
| --- | --- | --- | --- | --- | --- | --- | --- |
| GTC-3 P1 | THE-REAL-OZZMAN | 269 | ESR | 1:22.339 | 1:23.098 | 1:22.413 | 1:22.339 |
| GTC-3 P2 | i_am_supermex | 40 | Expendable Racing | 1:22.496 | 1:25.588 | 1:22.691 | 1:22.496 |
| GTC-3 P3 | Egoniii | 111 | RWB | 1:28.063 | 1:22.531 | 1:22.905 | 1:22.531 |
| GTC-3 P4 | Marchy-Boy96 | 88 | ICE Racing Group | 1:23.285 | 1:22.884 | 1:23.449 | 1:22.884 |
| GTC-3 P5 | RWB_litlemac26 | 73 | RWB | 1:23.179 | 1:22.918 | 1:23.119 | 1:22.918 |
| GTC-3 P6 | Mobile_ledge1 | 16 | | 1:32.079 | 1:23.015 | 1:46.168 | 1:23.015 |
| GTC-3 P7 | RWB_Igorski | 912 | RWB | 1:24.600 | 1:23.201 | 1:23.022 | 1:23.022 |
| GTC-3 P8 | wokss-motorsport | 75 | ICE Racing Group | 1:41.551 | 1:24.790 | 1:23.957 | 1:23.957 |
| GTC-3 P9 | t0x1c_bac0n_ | 32 | Hyprix | 1:26.859 | 1:24.236 | 1:42.630 | 1:24.236 |
| GTC-3 P10 | GC12_FormulaJuan | 22 | | 1:25.420 | 1:24.338 | 1:24.611 | 1:24.338 |
| GTC-3 P11 | Ventti_supersoft | 31 | ICE Racing Group | 1:26.206 | 1:24.431 | 1:25.705 | 1:24.431 |
| GTC-3 P12 | ICER_Benjo-19 | 19 | ICE Racing Group | 1:39.562 | 1:24.576 | 1:24.850 | 1:24.576 |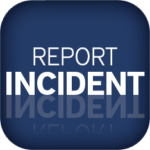 | Race | Date | Group | Course | Time on Track | Cars Available | Tires | Fuel |
| --- | --- | --- | --- | --- | --- | --- | --- |
| Qualifying (Required) | 21-AUG-21 | GT-3 | Laguna Seca | 14:30 | Mazda Atenza | X1 | X2 |
| Round 1 | 28-AUG-21 | GT-3 | Barcelona | 09:00 | Lexus RC-F | X1 | X2 |
| Round 2 | 11-SEP-21 | GT-3 | Bluemoon Infield A | 13:00 | Corvette | X1 | X2 |
| Round 3 | 18-SEP-21 | GT-4 | Brands Hatch | 20:30 | Porsche Cayman | X2 | X2 |
| Round 4 | 25-SEP-21 | GT-3 | Monza (Chicane) | 17:00 | Ferrari 458 | X1 | X2 |
| Round 5 | 02-OCT-21 | GT-3 | Mt Panorama | 12:00 | Mustang | X1 | X2 |
| Round 6 | 09-OCT-21 | GT-4 | Tsukuba | 14:00 | Toyota 86 | X2 | X2 |
| Round 7 | 16-OCT-21 | GT-3 | St Croix A | 09:40 | BMW M6 or Mercedes AMG | X1 | X2 |
| Round 8 | 23-OCT-21 | GT-3 | Interlagos | 13:45 | Puegeot RCZ or Alfa Romeo 4C | X1 | X2 |
| Round 9 | 30-OCT-21 | GT-4 | Suzuka | 16:30 | Nissan GT-R | X2 | X2 |
| Round 10 | 06-NOV-21 | GT-3 | Nurburgring GP | 08:00 | VW Beetle | X1 | X2 |