GTC HyPrix Porsche Cup S1 - qualifier info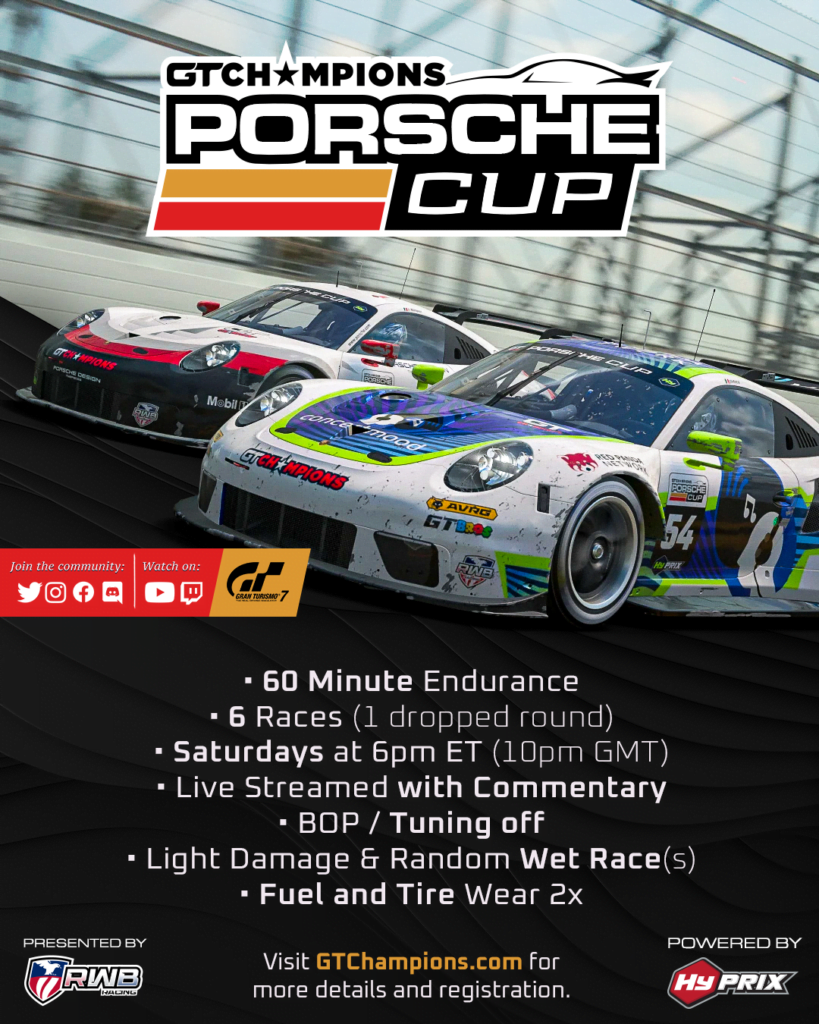 Welcome to the GTC HyPrix Porsche Cup!
The Porsche Cup is an event organized by GT Champions (presented by RWB Racing) and powered by our friends at HyPrix.
It's a 6 round event with a dropped round, raced on Saturdays at 6 pm Eastern Time (10 pm GMT). It will be live streamed with commentary to our platforms, and will have tuning off, light damage, and will have the possibility of wet races in random events, with fuel and tire wear of 2x for both.
Qualifiers: April 30th – Laggo Maggiore East
R1: May 14th – Spa
R2: May 21st – Laguna Seca
R3: May 28th – Daytona Infield
R4: June 4th – Interlagos
R5: June 11th – Alsace Test Course
R6: June 18th – Nurburgring GP
All events on Saturdays at 6 pm ET
PST: 3:00pm US Pacific
EST: 6:00pm US Eastern
BST: 11:00pm UK London
MYT: 6:00am Malaysia
AEST: 8:00am AU Sydney
There will be 4 qualifiers to choose from, and will all be run on April 30th.
Event Details:
Drivers can choose which heat they want to participate in. The choices are limited to the number of drivers for each heat, and is first come first served. The driver names are hidden to avoid drivers choosing which lobby to be in, based on who else is in there.
Schedule (Hosts TBD)

Lobby A will start at 4:30pm ET

Lobby B will start at 6:0t0pm ET

Lobby C will start at 7:30pm ET

Race Details

Lago Maggiore East Course

Fuel/Tires x2

60 Minutes

Grid Start

No tire or pit window requirements

Damage light

Penalties on for contact and cutting, not for pits.

Grid Setup – GT7 Lobby Workaround

Lobbies will open 30 minutes before race time.

All drivers can use whatever tire or strategy they want, to set their fastest time in practice, and that will set the grid.

Remember that if you exit the track, you will need to re-enter the track and drive through sector 1 to have your time set properly. Sometimes this is an issue in GT7, so we are doing what we can to set you straight. (Also, this is how each race will be setup during the series)

After The Race Details

**The GTC team reserves the right to move a driver to a specific division.

This means that if we see a driver that is clearly a top level driver get wrecked or otherwise finishes last dur to something beyond their control, we will not put them in the bottom division to dominate. We aim to provide fair and close competition.

1-5 will advance to Division 1

6-10  will advance to Division 2

11-15 will advance to Division 3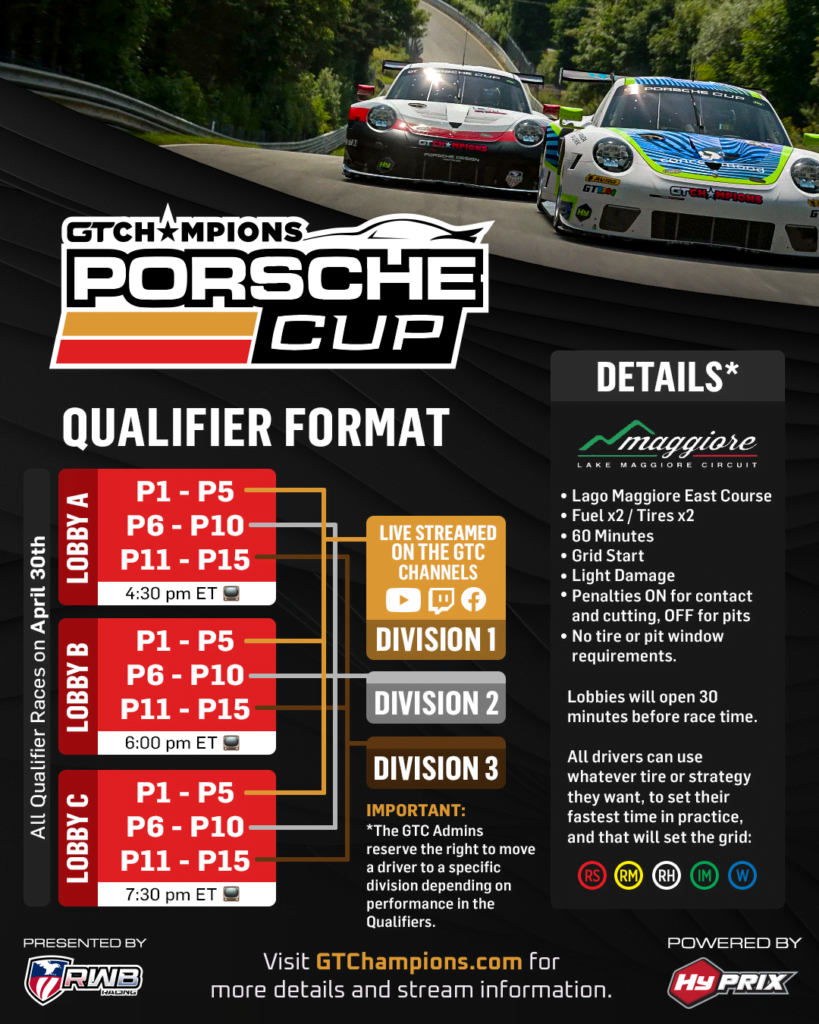 HyPrix (pronounced "hi" as in "hybrid" and "prix" as "pree"), is a graphic design agency/racing team hybrid, which has supported GT Champions for a couple years. Founder Julio Márquez, aka Pixteca, has worked with real life drivers as designer, photographer and videographer in regional series in Mexico, and has also worked as track photographer in Formula E and WEC.
In the simracing world, HyPrix supports leagues and drivers with designs for their social media pages, stream overlays, liveries, etc., while their drivers participate in everything from Gran Turismo, to iRacing, having won various events including this years Daytona 500 with driver John_YDG.
HyPrix has proudly supported GT Champions with their website design, event posters and stream overlays for the last few seasons.
You can find more info about HyPrix on their website, and follow them on their social media platforms:
Twitter: https://twitter.com/Hy_Prix
Instagram: https://www.instagram.com/hy_prix/
YouTube: https://www.youtube.com/channel/UCwJCLte-fqS2JYJfa1QQmbg
Dribbble (design portfolio): https://dribbble.com/pixteca
You can also find Pixteca in the GT Champions Discord!
Car used is the Porsche 911 RSR (991) '17, and will require the use of specific decals:
You can read all about the livery regulations for the Porsche Cup here, as well as find the links to all the decals.
1 Hour races
x2 Tires/ x2 Fuel
RS, RM, RH, IM, HW tires allowed
BoP / Tuning OFF
Races with 1 drop round (Final 3 rounds can't be dropped)
Comply with required Livery Items
Saturdays at 6pm ET
PST: 3:00pm US Pacific
EST: 6:00pm US Eastern
BST: 11:00pm UK London
MYT: 6:00am Malaysia
AEST: 8:00am AU Sydney
2 Lobbbies max, with 15 drivers in first lobby, and 16 in the 2nd.
Points
Fastest Lap = 1 Point
P1 – 18 Points
P2 – 16 Points
P3 – 14 Points
P4 – 13 Points
P5 – 12 Points
P6 – 11 Points
P7 – 10 Points
P8 –   9 Points
P9 –   8 Points
P10 – 7 Points
P11 – 6 Points
P12 – 5 Points
P13 – 4 Points
P14 – 3 Points
P15 – 2 Points
P16 – 1 Point
Qualifying For Series:
We will have a certain number of heats to determine who can run, based on the number of registrations. An email will be sent out to each driver, with information ont he qualifier, and what heat they will be entered into.

Registrants
Heat races will be run to determine series drivers.
1. Heat races with the top X from each going into the main series.
2. Depending on number of drivers registered to qualify, we will divide up the registrants into even heats.
3. Leftover drivers will run as reserves (earning points for who they replace)
4. Reserves may only drive for a driver 1 time.
Heat Races:
Lago Maggiore – EAST
1 Hour Race
Tire and Fuel x2